You don't just travel to Italy, you get consumed by Italy; the words stumbled out of my mouth as I tried to explain why it was one of my favourite countries. The people, the passion, the food (oh boy, the food), the views, the attitude; there is something about the lifestyle here that transports you, and in this region, it's all combined. Emilia Romagna day trips offer up a fantastic mix of culinary, architecture and art in experiences wrapped up in one.
I spent a week exploring this new to me region, and from the seaside towns to the hills of olive trees, I still don't feel like I've genuinely scratched the surface. Grab a car, grab some mates and take a road trip through this region of Northern Italy. Or, for now, watch the video before reading all my Emilia Romagna must visits below.
When it comes to exploring Italy, I think road-trips are the winner. While you could take day trips from Bologna by public transport easily enough, to discover some of the true hidden gems of Europe and the little villages of this Italian region, four-wheels (or go all out with a Vespa) are a winner.
Here are some of my top things to do in Emilia Romagna and all are possible day trips from Bologna.
Brisighella
When you think of Italy from the movies; you know the ones, hair flying in convertible cars, verdant green hills of vines, castles towering above little red roof towns, you're essentially thinking of Brisighella.
This too cute to believe town was my first day trip in Emilia Romagna and it stayed my favourite. The picturesque streets with little cafes and gelato shops sit under the three hills of the town; one clocktower, one castle and one church. You can enjoy a casual stroll between the three and visit them before noshing down on all the gelato below. We saw one little tourist group there but other than that, on a blissfully sunny June day it was devoid of tourists.
Be sure to check out the surroundings including the old quarry caves which now host live music performances underground, the excavation site of the old castle which offers terrific panoramic views and head to the mountains for some fantastic fresh food and fresh air at the Parco Carnè visitor centre.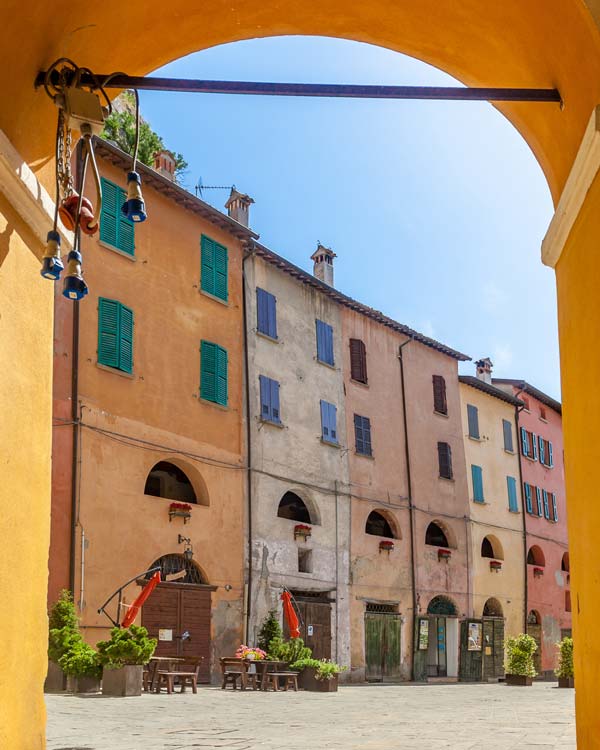 Cesenatico
Cesenatico was one of those places where I just pointed at a map and went with no real research (it's one of my best skills in life). I had wanted to visit the charming canals of Comacchio which had been touted as a 'Venice without the people' but time was not on my side.
Luckily, quaint Cesenatico was an ideal day trip from Bologna. Sure, it has a beach on the Adriatic, but I always recommend Albania or The Algarve for Europe beach holidays as I find the Italian beaches crowded with deckchairs.
The town it's self though was adorable, with colourful houses lining the few small canals, a maritime museum with boats displayed on the canal and plenty of little restaurants the slow-pace of Italian life is ripe for the taking here.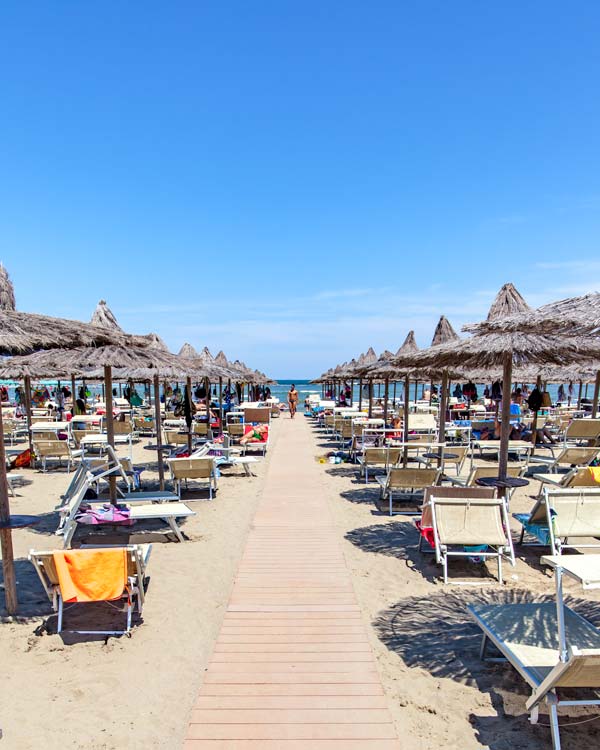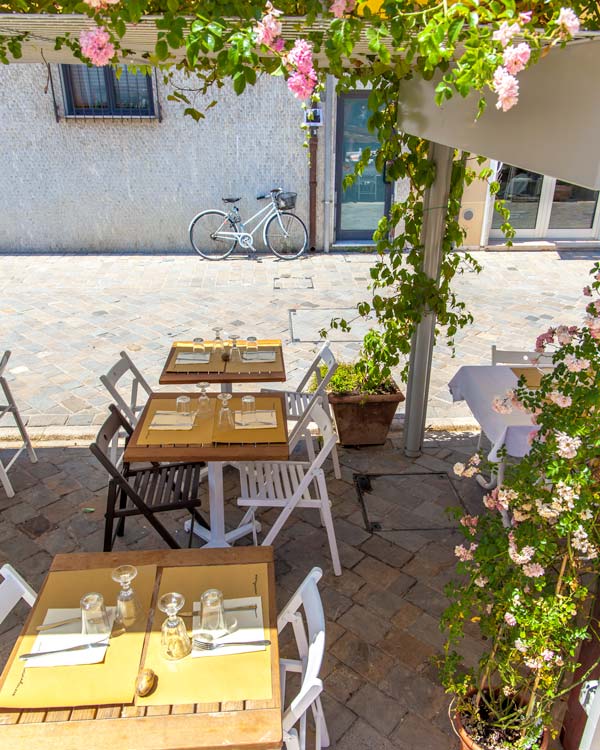 Bologna
The capital city of Emilia Romagna, Bologna is enjoying a moment on the centre-stage. Often overlooked for the likes of Venice, Rome and Milan, this city is seriously a star.
With the most extensive collection of Porticos in the world (the covered arch walkways), imposing towers littering the city, a hill-top monastery and countless restaurants, bars and markets serving up delicious treats around the clock, this is one epic city break.
The architecture throughout the city is outstanding, the cheap pizza slices from the hole in the wall restaurants delicious and the overall vibe is one of love and excitement. It's damn romantic here, but it's also a buzzing university city, the oldest in Europe in fact, and that gives it a real mix of cultural and modern experiences.
Ferrara
I'm gonna be honest, Janet and I spent much of our time in Ferrara drinking wine, Aperol and anything else we could use to 'rehydrate'. While this large city has plenty going on it also seemed like the perfect place to have a lazy day of sight-seeing and bar-hopping.
Start your day off in the striking centre at the Castello Estense and marvel at the interior artwork before taking in the city from the viewing tower. The Palazzo die Diamanti holds the famous National Picture Gallery while Ferrara Castle, a marble facade 12th-century beauty towers in the central Piazza.
The city is split between medieval and renaissance art, and you can easily hire a bike as part of your Emilia Romagna day trip here to hope between each side and see the contrast of the little streets change as you ride through.
Just don't get as tipsy as me and miss your train back to Bologna!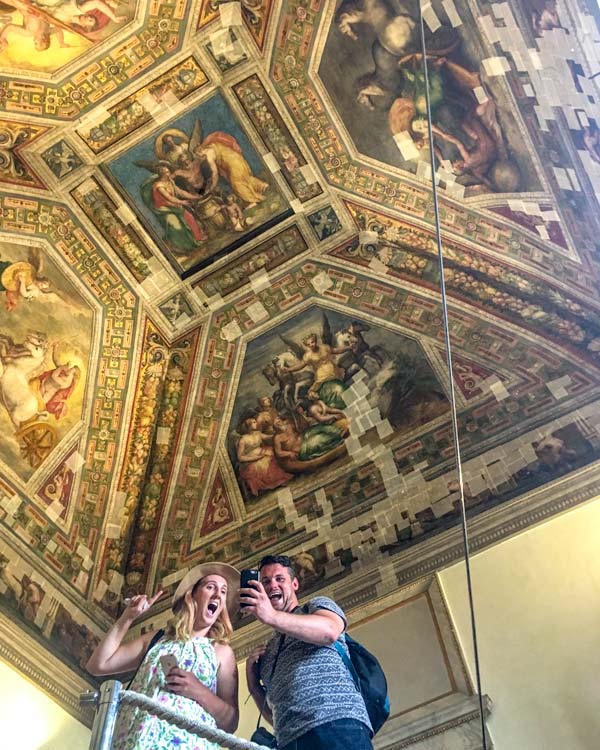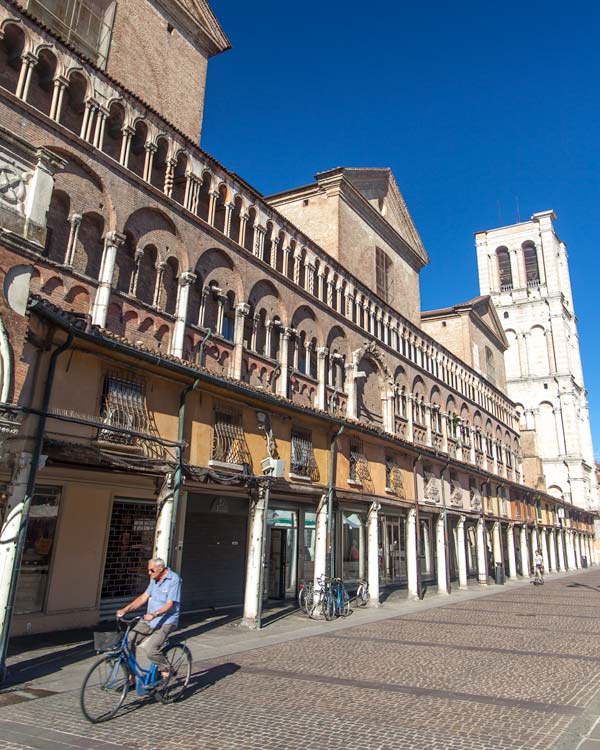 Modena
Modena is famous for two things: Fast cars and Modena Balsamic Vinegar. That's not to say you shouldn't take a day trip here at least. While the Ferraris and Lamborghini compliment the more classic Opera scene, there are plenty of impressive sights to enjoy.
The Torre della Ghirlandia is perhaps the most famous and imposing, a giant bell tower offers panoramic views of the city and sits in pride of place. The Roman castle nearby also completes the impressive central square.
For those who are into art and sophisticated architecture, this might actually be one of the best day trips in Emilia Romagna. With multiple museums and palaces stretching over a thousand years you can slowly hop between each sight stopping for coffee refills as needed. The Galleria Estense is a notable must visit for its painting collection from the 14th-century onwards.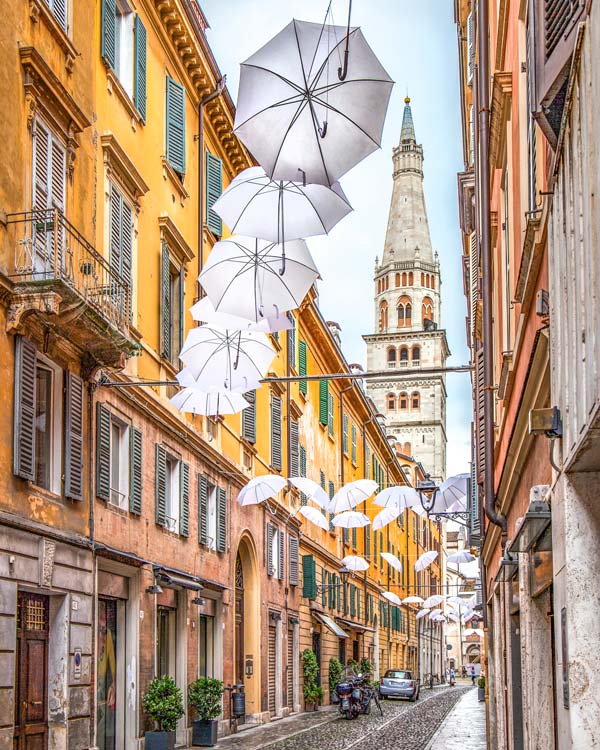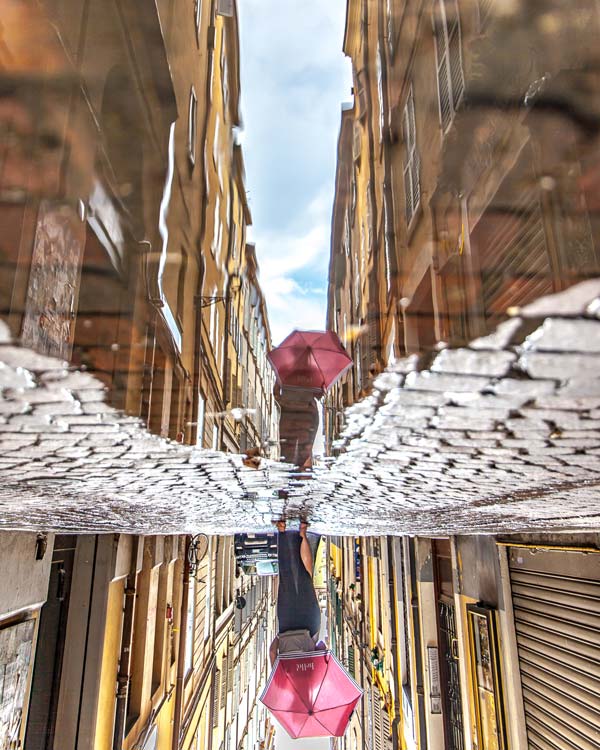 Rimini
Rimini is a bit of a contraction, and for some, it's somewhere to base themselves and others its somewhere to avoid. As such, I recommend meeting in the middle by having a day trip from Bologna here.
Located on the Adriatic, you have the bustling coast, with nightclubs, sunlounger sellers and overcrowded beaches but a short stroll into the historic town is a contrast.
Ravenna
The Ponte di Tiberio is an iconic bridge, and renowned as being one of the oldest in the country, the main square is crammed with market stools and miniature Italy, with model versions of various landmarks might be entertaining for any kids in tow.
Personally, I didn't overly rate Rimini, but it was a necessary stop on route to San Marino, and somewhere you should certainly give a chance; as I said, for many people this is somewhere not to miss.
Ravenna
If you visit Ravenna as a day trip from Bologna, be sure to give yourself enough time here as I wish I had been able to explore the plethora of UNESCO protected artwork more in-depth.
Famed for its colourful mosaics which can be found on walls, inside churches and hiding down little alleys, it's an intricate treat.
With a vast collection of religious buildings, from churches, Basilicas and the Mausoleum di Teodorico, a 6th-century tomb for a king, it's one of the more historically significant parts of the Emilia Romagna region. Don't miss the Basilica of Sant'Apollinare which sits near the train station as is easy to pass by en route to the old centre.
All the food
Emilia Romagna is often touted as 'the home of food', partly due to being the birthplace of Ragu. We call it Spaghetti Bolognese, but it's origins are here as a more meat-based sauce, served with tagliatelle – yup, we all eat an Italian dish that doesn't really exist.
But this region is full of treats, from Gelato Tours in Bologna to factory tours at Parmigiano Reggiano, the original and certified hard cheese (you know it's the real deal when it's not called Parmesan).
Balsamic Vinegar of Modena is also a famous export and again, certified. If it's not from here and with the label, then it's not the real deal. From small trattories to bustling food markets, such as FICO, the worlds first food theme park, any hardcore foodie is going to be spoilt here!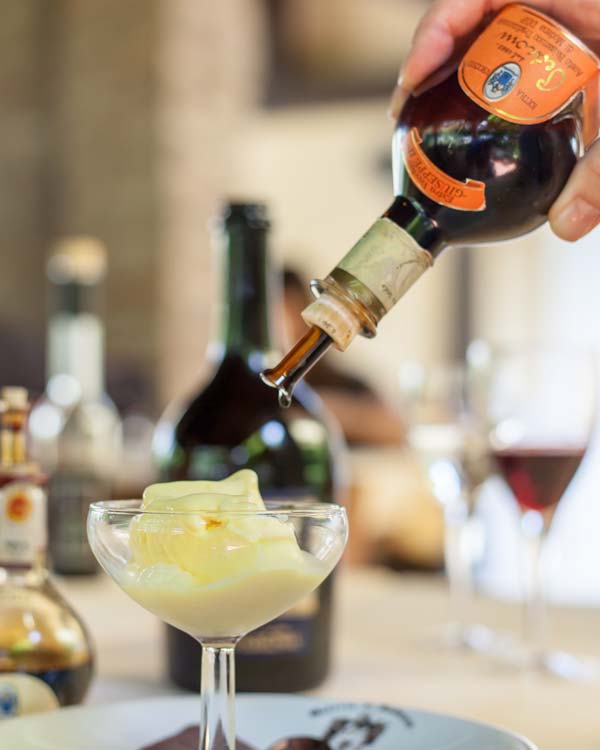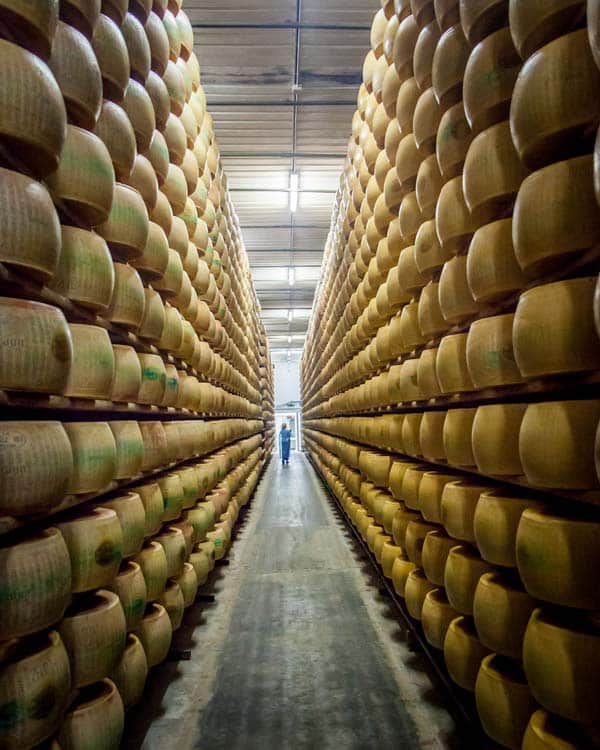 San Marino
To avoid any doubt, San Marino is an entirely different country to Italy, but given Emilia Romagna surrounds it, it's a must-do day trip while you are here.
In fact, I'd suggest you stay overnight. This tiny republic is the 5th smallest country in the world and the least visited in Europe, but after sunset and the daytrippers depart, you have the most magical ancient experience walking its old city without any crowds.
It's a truly fascinating place being one of the oldest republics in the world. Italy surrounds it but not part of the EU (although it has no borders). They use the Euro and have individual San Marino coins. They have two presidents at any time who serve six months each. They have their own calendar. You get the point, it's a pretty unique place, and as such you should certainly make the time when planning your Emila Romagna day trips to fit it in.